Premium Spa and High Quality Customized Hot Tub Covers
Custom Thermal Guard Premium Spa and Hot Tub Covers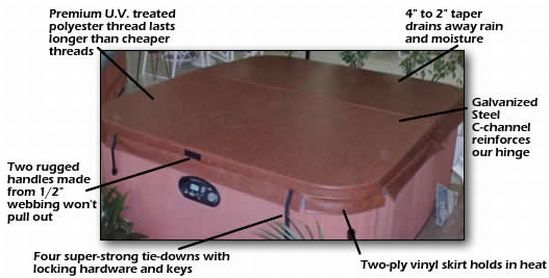 Thermal Guard Spa Cover
Why purchase a spa cover? The answer is sort of obvious - to cover the spa when it is not in use. The benefits are that it keeps debris out of the spa water, insulates the hot tub so the water stays hot, and adds safety by preventing accidents. It will also help with chemical retention.
Available in two foam thicknesses. In the middle, where the cover hinges, there is a steel channel hugging the foam to give it extra strength. The foam is then covered with high quality vinyl that is both chlorine and weather resistant.
We offer our hot tub covers in a standard 4" to 2" taper that will give excellent insulation in all parts of the country. And a walk-on cover for maximum protection.
Here is some information on walk on covers: This top-of-the-line cover is so strong that you and your family can walk on it. Super-strong reinforced foam core can hold 3-feet of snow or a whole family. Built with the same quality construction of our regular Thermal Guard covers - but stronger! It is extra insulating (R-value of 19.7). Great for spas at deck level or to add extra protection when children and pets are a concern.
Our spa covers comes in 14 attractive colors. Please complete our measuring form (click below) and specify color when ordering.
Available Colors

Burgundy

Charcoal

Hunter Green

Light Gray

Navy Blue

Old Teak

Walnut

Black

Prestige Teak

Sand

Teal

Prestige Grey

Light Blue

Brown
ALL SPA COVERS ARE CUSTOM MADESO THEREFORE YOU MUST FAX OR EMAIL THE FORM FOR A QUOTE
All custom Thermal Guard Spa Covers will REQUIRE a Measuring form filled out. Faxes should be sent to 901-531-8145. No Thermal Guard Spa Cover order will be processed without the detailed customer fax.
All Thermal Guard Spa Covers are made to your specifications. Therefore all sales are final. No refunds or returns can, or will, be accepted.
Last Updated: 02/02/2023 04:01 PM - ID:1710