Cornelius Cristo Swimming Pool Kits
Above Ground Swimming Pool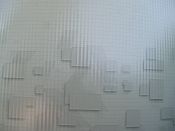 Wall Close-up (Click To Enlarge)
Why try and cram a whole summer of fun into one or two short weeks? A new Cristo pool makes your summer fun last all summer. Afternoons for the kids. Cool and relaxing after a long day of work. Pool parties and barbecues with friends on the weekends. It's like one endless summer of cool fun for the whole family.
The Cristo pool stands up to whatever kids can dish out, while it handles any weather with ease. Its extruded 7" resin ledge resists weather, water and wear. Durable 6" upright posts with unique interlocking resin caps, and resin foot collars give the whole package strength, support and style. Galvanized steel frame components have polyester finish and liquid vinyl coating to provide years of lasting beauty and quality. Heavy-duty tracks, oversized connectors and oversized fasteners add strength for a pool that will last for summers to come.
Your Cristo pool installs easily. Ledges, caps and posts fit snug and secure. Skimmer and return outlets come pre-punched.
Features & Benefits:
25 year(3 seasons full / 22 years pro rated) Warranty
52" high RESIN/Steel combination pool
6" Steel Post mist liquid resin coating (both sides)
7" Toprails
Beautifull wall pattern with liquid resin top coat
Wide mouth skimmer and regular return punch outs
Large two piece interlocking resin cap.
Resin bottom connector/foot collar combination.
JS 500 screws will not rust - "lifetime warranty".
Lifetime Warranty on all resin components.
Comes Standard with Sparkle Bottom Overlap liner
Swimming Pool Only Includes


(unless you make modifications of course)

Complete Swimming Pool Kit Includes


(unless you make modifications of course)

Pool Wall
7" Top Rails
Bottom Rails
6" Vertical Supports (Uprights)
Wide Mouth Skimmer
Sparkle Bottom Overlap Liner

Everything from first column Plus
21" Sta-Rite Waterford Sand Filter and 1˝ HP Pump
A-Frame Ladder
Maintenance Kit
Floating Chlorinator
Last Updated: 02/02/2023 04:17 PM - ID:3529