Mangalore Mosaic 33ft Round Heavy Gauge Unibead Liner - 52in wall
Above Ground Beaded Swimming Pool Liners
Capturing the beauty of intricate tile mosaics from India, the Mangalore Mosaic Unibead Liner is a unique and elegant choice for any above-ground pool. The mosaicís neutral background and vibrant blue and black design creates a beautiful border that frames a dark blue wall and floor pattern. Manufactured with heavy-gauge, premium vinyl, this liner has UV inhibitors to protect against fading and damage from sunlight and chemicals. Welded seams ensure a smooth surface and provide years of durability. Backed by a 25-year warranty.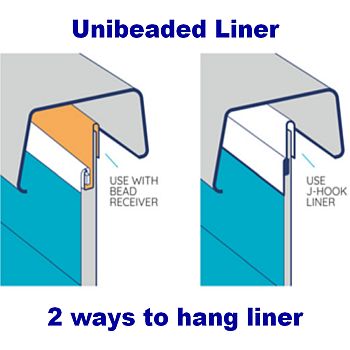 Unibead Vinyl Pool Liners
Newest type of beaded liner is the Unibead. They make the top part of the wall portion of the liner with a bead and just above that put an upside down J-Hook. You can install this just like a J-Hook / J-Bead liner, or you can peel off the J-Hook Portion of the liner and it easily converts to a true Beaded liner. The Unibead provides all the benefits of protective liner and the freedom to use patterns usually found only on beaded liners. Unibead liners can replace beaded, J-Hook, or overlap liners for any pool with a near flat bottom.
Features of 33ft Rnd Liner 52in - Mangalore Mosaic 25ga Beaded
India inspired intricate tile top border with deep blue water below. Unique and elegant design will complement any above-ground pool
Sized to fit 52" wall height
Heavy 25 Gauge vinyl
Unibead can be used to replace standard beaded liners, J-Hook Liners or most overlap liners.
UV-protected vinyl resists fading from the sun and harsh chemicals
Long-lasting and durable welded seam construction
Backed by a 25-Year Warranty
Last Updated: 02/27/2023 02:35 PM - ID:6475