Vinyl Pool Liner - 12x24 Foot Oval Pool - Rockport Heavy 25ga - Beaded
Above Ground Swimming Pool Liner fits 48in to 52in Tall Pool Walls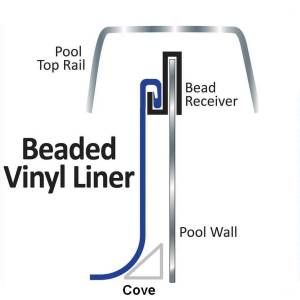 This premium liner is made with virgin vinyl using a unique process for maximum protection from pool chemicals and the damaging U.V. rays of the Sun. Our liners will last longer and maintain their beautiful appearance for many years to come.
Beaded Liners are typically made with a special bead at the top of the liner which is pushed and locks itself into into a channel (called a Bead Receiver) that runs along the the top of the pool wall. A beaded liner can be used to replace other beaded liners without any additional equipment. A beaded can replace an overlap with the addition of bead receivers that run around the pool at the top of the wall. Beaded liners must be purchased specifically for the height of the pool wall: 48 inch, 52 inch or 54 inch.
If you have a wall taller than 54", you will need to purchase an Expandable Overlap liner. If you want to scoop/dish out the middle of the floor to have a deeper water section of your pool, you will need an Expandable Overlap liner.
Liner Bead Types

Small Bead

Small bead is a very rare bead type and is hardly ever used or needed.

Kayak Bead


Standard Bead

Kayak bead is used the most often for most industry standard beaded pools. It is quite common and is recommended if you need a liner to snap into your industry standard bead receivers.

Wilkes Bead


J-Hook or U-Bead

The Wilkes bead, also known a J-Hook or U-Bead, is used to "Hang" the liner on most walls with the use of bead receivers.

Multi-Bead


(like UniBead)

The Multi-Bead is Pegasus' version on SwimLine's UniBead liner. This liner type can be used to fit into most industry standard bead receivers or the liner can hang on the pool wall as a J-Hook/U-Bead/Wilkes type liner which replaces most overlap liners. If you are replacing an old true beaded liner with bead receivers, this would be an excellent choice. If the bead receivers break, remove them and use the J-Hook part of this liner type. A perfect choice for a pool with an existing beaded liner or an overlap liner.

Esther Williams

Older Esther Williams pools used this bead for many years prior to them adopting the industry standard bead type.

If your pool does not have a flat bottom or the wall is higher than 54 inches you will need an Expandable Overlap Liner and this type of liner is not for your pool!
Features of 12x24 Foot Oval Liner - Rockport 25ga - Beaded
Bead Types: Kayak/Standard, Multi-Bead (Like Uni-Bead), Wilkes/J-Hook, Small Bead or Esther Williams
Will fit 48in, 52in or 54in high pool walls
Constructed of Heavy 25-gauge virgin vinyl
Strong, double-welded seams
Made to Order: No Cancellations, No Returns, No Refunds.
Last Updated: 05/18/2023 01:46 PM - ID:6188