Above Ground Pool Winter Covers -ArmorKote 20 Year Cover
Winter Pool Covers for Above Ground Pools
This ArmorKote cover is built to last! Constructed of only the strongest Super tough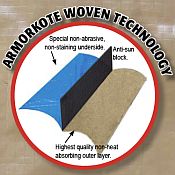 Click to Enlarge
woven triple-laminated polyethylene. ArmorKote has the heaviest, strongest and most tear resistant material we can find. This cover features rugged Polyethylene thread as well as UV-protected fabric that withstands sunlight without weakening. The blue underside of the cover retards algae growth. The ArmorKote cover comes complete with a heavy duty vinyl-coated cable and winch that threads through rugged loops for a secure fit. Our big 4-foot overlap keeps your cover in place during winters worst. This rugged cover is built the best so it is backed by a
20-year warranty that is 5-YEARS FULL RATED.
Invest in America's best warranted winter cover .

Tan

ArmorKote Winter Pool Cover - 20 year

50% stronger than most other winter covers
30% lighter makes installing and removing your cover easier
Poly Threads (not cotton) are Stronger & Last Longer, won't Rot
Rugged Tie Down Loops
Tan Top / Blue Colored Bottom
10 times the abrasion resistance of other covers.
Chemical Resistance is improved 2.5 times.
We can not ship the Armorkote covers to Canada
Last Updated: 02/02/2023 04:07 PM - ID:3570