Wedding Cake Steps for Above Ground Pool
Above Ground Swimming Pool Steps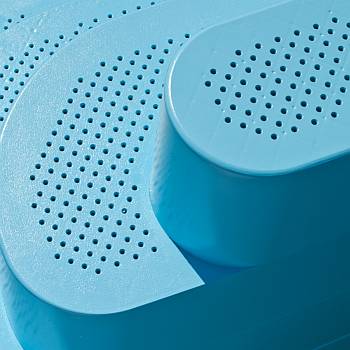 Wedding Cake Perforated Non Skid Steps
The popular Wedding Cake Steps for Above Ground Pools are back. The new blue color blends in with your pool water and liner and will hold over 500lbs. The strong molded ABS construction will not flex or buckle like blow molded pool steps. The well ventilated design allows chemicals to circulate and reduce algae buildup and the rugged construction sinks the steps on its own without additional weights. The Wedding Cake Step features perforated non skid steps for traction and safety. This step will fit above ground pools up to 54 inches deep and the steps measure 42 inches deep by 53 inches wide. Hardware and brackets are included so you can easily mount to your deck or pool. Easy assembly in approximately 15 minutes. The Wedding Cake Step should be paired with a Large 4ft x 5ft Pad in order to provide full protection to the pool liner.
Features of Wedding Cake Steps
Beautiful Blue Design blends into your pool
Holds over 500lbs.
No extra weights or ballasts needed
Well ventilated design
Perforated Non Skid Steps
Easy Assembly in 15 minutes or less
Fits Above Ground Pools up to 54 inches deep
Steps are 42 inches deep and 53 inches wide
Each Step is about 11in tall. Top step is 44in tall.
2 Year Warranty


This item has been discontinued. We apologize for any inconvenience.
Last Updated: 02/02/2023 04:09 PM - ID:612