Wood Anchor Installation
How to Install Wood Anchors into your wooden deck
Wood Anchor Installation
Step 1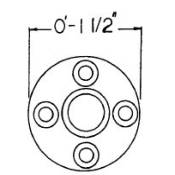 (Click to Enlarge)
Install wood anchors by drilling a 1-1/2" diameter hole to a depth of 1/8" with a wing bit.
Step 2
Drill a 3/4" diameter hole in the center of the wing bit hole to a final depth of 1-1/4".
Step 3
Insert anchor into hole so it is flush with the deck surface. Proceed with screwing the wood screws into the existing holes. Spray anchor and casing with silicone. Then insert the anchor screw using the hex key.
Last Updated: 02/02/2023 04:12 PM - ID:2964