Commercial Mesh Safety Pool Covers - 30 Year Warranty
with Heavy Duty Mounting Hardware by Arctic Armor
This is our powerhouse safety cover featuring the highest quality industrial grade mesh fabric ever made and backed by the Industry's longest 30 Year Warranty. If you are looking for a safety cover that is built for strength and longevity then look no further. This covers is manufactured with industrial-grade mesh fabric that will withstand heavier snow loads, extreme wind, longer exposure to harmful UV rays and will last 2 TIMES longer than a standard mesh cover. Covers are made with 5' x 5' reinforcing straps that make them 50% stronger than traditional mesh safety covers with a break strength of over 5200 lbs. Reinforced straps and super tough mesh means the cover resists deck abrasion much better.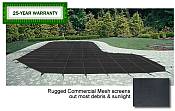 Click to Enlarge
The cover is loaded with UV inhibitors and will last for many years in areas with intense sunlight. Our tight weave mesh provides your pool with two layers of protection. Since the cover's weave is tighter than a standard mesh cover it provides excellent shade, which reduces algae growth in the spring. The mesh screens out all but the finest debris, but allows the cover to drain eliminating spring cover pumping. Spring opening is quick & easy.
This lightweight cover is easy to remove and install like conventional safety covers, using brass anchors and stainless steel springs. This premium cover comes complete with anchors, stainless steel springs, installation tool, storage bag and compete installation instructions.
Mesh Pool Safety Covers are made approximately 2' larger than the pool size to provide a 1' overlap around the entire pool. Example: The cover for a 16x32 pool is made to be 18x34. All you need to do is order the cover by the actual pool size below.
Three feet of deck is required around the pool, and there cannot be any non-removable obstructions such as ladders, diving boards, etc. within 1' of the pool's edge. If your pool has non-removable obstructions or less than 3' of concrete deck around the pool, you need to download our measuring form for a custom cover quote.
PLEASE NOTE: Any Safety cover with a step other than 4'x8' is considered as custom and IS NOT RETURNABLE.
Click on your pool size below for additional information and pricing
Note: It is usually less expensive to purchase a rectangular cover that will cover your non-standard size pool or irregular shaped pool. But what most dealers will NOT tell you is that this will void the warranty with the manufacturer. This is true for ALL manufacturers' warranties. So please keep this in mind before ordering a rectangle cover for your Grecian, Roman, Oval or Freeform pool.


NEW LOW PRICES ON MANY SAFETY COVERS!! BE SURE TO TAKE ADVANTAGE OF THESE GREAT DEALS TODAY!!
Last Updated: 09/20/2023 02:43 PM - ID:4530