Vinyl Pool Liner Bead Receiver
For Above Ground Pools
Convert your overlap lined pool to accept beaded liners with ease. Bead Receivers attach to the top of the pool wall to create a track where the bead liner snaps into.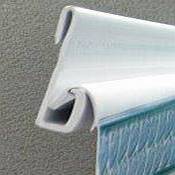 What is the difference between a bead and overlap liner? Beaded liners have a thick vinyl bead that installs into a track, much like the installations of in ground pools, whereas an overlap liner hangs over the pool wall and is clamped down with a coping strip.
A benefit of beaded liners is apparent when replacing your liner. Installing a bead liner eliminates the need to take your pool apart, just snap out the old liner and snap in the new one! Bead Receiver strips are 48" long.


Round Pools
Oval Pools
Pool Size
12'
15'
18'
21'
24'
27'
30'
12' x 24'
15' x 30'
18' x 33'
Recievers Needed
10
12
15
17
19
22
24
16
23
26
Last Updated: 02/02/2023 04:36 PM - ID:2719