Venezia Pool Furniture Set
From the Venezia Collection of Pool Furniture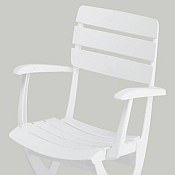 Venezia Poolside Arm Chair
This Venezia Pool Furniture Set by KETTLER® features a 46 inch Round KETTALUX table and 4 Venezia Arm Chairs. The Venezia collection is the ultimate in casual pool furniture. The Kettler® Venezia Collection of Pool Furniture is marked by legendary craftsmanship, flawless quality, and timeless design. KETTLER® is known around the world for its innovative products, and the Venezia Collection is no exception.
The four (4) Venezia Arm Chairs along with the table offer endless flexibility and infinite possibilities for relaxation. The Venezia Arm Chair is cleverly designed with elegant scissor legs to allow for easy folding and nesting for storage, even when storage space is limited. Each piece in the Venezia Collection is constructed of the KETTLER® exclusive K2 molding and distinct UV resistant lacquered finish for quality that lasts season after season.
KETTALUX Resin Tables are entirely weatherproof and resist any and all weather conditions. The incredibly robust top has multiple ultra-durable layers, and the expanded warp-proof resin core and the chip-proof edge are constructed of solid resin that ensures advanced strength and resilience. KETTALUX tables are shock absorbing to prevent cracking, warping, or shattering. Finished with a decorative high density protective exterior coating, these tables are virtually maintenance free. Optional table upgrade includes the large 38 inch x 63 inch Oval. Each table has an umbrella hole.
You will be amazed by the quality and value of the Venezia Pool Furniture Collection. This set is guaranteed to last for many years while adding timeless elegance to your poolside.
Features of Venezia Pool Furniture Set
Robotically applied lacquered finish
UV Resistant
Made of 100% recyclable resin
Includes (1) 46in Round Table and 4 Arm Chairs
Warranty: 3 Years Residential - 1 Year Commercial
Cushions not included
Graceful scissor legs
Chair folds and nests for easy storage
Chair Dimensions: 23 inch W x 32 inch H; Seat Depth 16.5 inches
Kettalux Table Features
Expanded warp-proof resin core
High density protective coating
Integrated floor levelers


This item has been discontinued. We apologize for any inconvenience.
Last Updated: 02/18/2020 12:14 PM - ID:4636